Octane Fitness Q37 Elliptical – A Total Body Workout
Octane Fitness Q37 Elliptical Cross Trainer
Octane Fitness has been one of the leading elliptical manufacturers in the industry as the only fitness company dedicated solely to developing and building ellipticals. Being able to focus on this specific type of machine has led to the development of some of the fitness industry's most effective and recommended elliptical cross trainers. In fact, the Octane Q37 gained fame when it was named one of Oprah's Favorite Things!
The Octane Q37 is a great upper and lower body workout. Not only is the Q37 Elliptical Cross Trainer designed with ergonomically correct body positioning, it also has multiple workout variations to keep your workout smooth and pain-free. With converging path handlebars, you can tone and strengthen your entire upper body while you workout your lower body. When you need to cool down or reduce stress from an intense total body workout, the Q37 also has stationary handlebars.
The Octane Fitness Q37 has two different console options: Q37c or the Q37ci.
The Q37ci Elliptical is an upgraded version of the Q37c, with upgrades including a larger screen, a Polar Heart Rate strap, wireless heart rate monitoring with 4 heart rate training programs, 4 cross circuit workout programs, customized workout boosters, and a pair of resistance bands and 2 workout videos. Because of the cross-circuit training and the limitless variations of workouts on the Q37 elliptical, full-body workouts never get boring or repetitive!
Optional Cross Circuit PRO Kit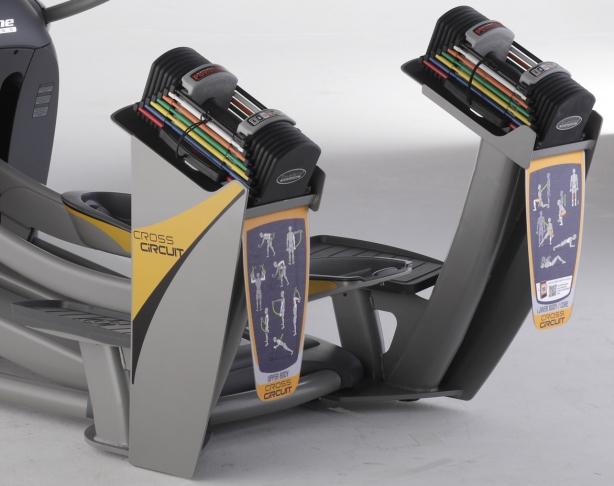 The Q37 elliptical offers the option of  adding a Cross Circuit Kit or a Cross Circuit PRO Kit to add to the strength training portion of your workout. The Cross Circuit Kit adds side-steps, 3-powerbands with ranging resistance, a powerband instruction guide, and 1-set of extendable handle grips.
The optional Cross Crcuit PRO Kit includes weight stands with side platforms and 2 32lb Powerblock adjustable weights (see our previous blog about Powerblock dumbbells). Powerblock dumbbells are revolutionary in that they adjust to the desired weight in 4 lb increments to fit your weight training needs. For a fraction of the price of a conventional dumbbell set, and the space requirement of one pair of dumbbells, your Octane Q37 Elliptical with optional Cross Circuit PRO Kit can meet your cardio and strength training needs!
For more information visit us at www.thefitnessoutlet.com or give us a call at 1-866-883-4863.